Over view of this message:
Sound file: 20051110.mp3 Time: 53:11
Update Required
To play the media you will need to either update your browser to a recent version or update your Flash plugin.
This message was recently processed.  It was recorded some years ago with a broken microphone.  Only recently has the technology been available to clean the recording of loud clicks and pops.
Please make sure and listen at least up to minute 38 in this message.  A powerful prophetic word is poured through Brother Freedom's lips as the Holy Ghost takes over totally for a few moments.
 The message opens with Brother Freedom explaining that he has moved away from the differing opinions of Bible teachers.  Instead he has let the Bible speak to him for itself under the guidance of the Holy Spirit.  He states that he "…really believes what the Bible says."
During the 30 years prior to this message Brother Freedom testifies that he has never seen God wrong one time.  God lets Brother Freedom live a somewhat normal Christian life, but when the presence of the Holy Spirit or Holy Ghost shows up upon Brother Freedom then things change radically.  That presence is like "dynamic power."  It is something Freedom has no words to explain.  The presence of God encourages him to keep on going when he feels opposition.  The presence of God gives Freedom the desire to go forward with God no matter what happens.  Freedom wants only to do God's will.  This is what God wants to impart to HIS church, that they would center on doing only HIS will in these last days.  We are living in the last days. God wants HIS church to be strong in the Lord.
God has given us some gifts.  Brother Freedom has spent his whole life working.  He is built to work.  He feels better when he is working and active. This is why he loves working for the Lord.  Even as a 10 year old little boy he was put to work running a farm caterpillar tractor.  He worked 12 and 14 hours a day.  That was an era before child labor laws.
In doing that work he saw the advantage of solitude with God.  Being alone out in a field and communing with God as the tractor did the work.  He had just accepted the Lord as savior when he began running tractor.  Those early days were such a special time for him, alone with God.  He loves to be where he can feel God's presence.  Even though it seemed that he missed out on many things a youngster might have, he never felt that he had missed much.  In fact he felt as though he was gaining something beyond what most young people experienced.  Brother Freedom discovered that God is a real friend!  God satisfies as none other.
That faith he gained in God, that friendship with God kept him safe in Korea as a soldier.  He was able to operate a cat and never had to take a life.  But mines, bullets and mortars tried to kill him, yet God kept him.
In life we never know the schedule.  We want to do our own schedule rather than the Lord's schedule.  But Brother Freedom went with God's schedule and it proved to be correct, very correct.
Brother Freedom then moves into the opening prayer.  Brother Freedom's prayers are so unique, full of thanksgiving to God.  He prays for protection over the service, for love, for no ill feelings.  He binds the power of the enemy in the mighty name of Jesus.  He prays for the mighty touch of God.  He states that God wants to bring us into perfection, that we would take on God's nature.  That is what the Christian life is all about, to take on God's nature.
Brother Freedom opens the message by sharing that he has been directed to use heavy equipment as a parable to help us understand what God is doing.  God used heavy equipment to teach Freedom many, many secrets of the Kingdom of God.  God did it this way because heavy equipment is something that Brother Freedom understands.  God likes to use things we understand to help us understand God's mighty working.
God wants to deliver us from the hang ups that we find ourselves bound up in.  We live in a world that is full of ill and wrong feelings.  This world is full of corruption.  It is full of darkness.
When Brother Freedom prepares to minister he does not do it as many others do.  Instead what he does is to read heavily in the Bible.  He simply prays, believes and eats the Word of God.  He does not try to analyze what he reads.  He lets the Holy Spirit do the analytic work.  He prepares so that God can take over his mouth and speak what God wants, the way God wants it spoken.
Brother Freedom explains that words are how we work in this life.  He reminds us of the words of Jesus when our Lord said:
"For by thy words thou shalt be justified, and by thy words thou shalt be condemned."  [Matthew 12:37]
We really need the input from Heaven.  We are all natural men or women.  But God is trying to bring us to that place that we don't strive or struggle, kicking against the things that God wants to bring us into.  But instead HE wants us to relax and let HIM bring us in at our speed.  God wants to work at our speed, as long as our desire is to align with HIM.  Our desire is a very special factor with God.  Our desire should be that we want to grow in HIS nature and in HIS likeness.  That desire is the key position.  My desire should be to walk in HIS will, HIS covering, in HIS capacity, by HIS leadership.
There is an equality for those who have that proper desire because God is not a respecter of persons.  But the only separator that can over throw God's desire is:
"…they which do hunger and thirst after righteousness: for they shall be filled."  [Matthew 5:6]
Brother Freedom reminds us that God's eyes travel all through the earth looking for a certain people:
"For the eyes of the LORD run to and fro throughout the whole earth, to shew himself strong in the behalf of them whose heart is perfect toward him."  [2nd Chronicles 16:9a]
So truly God, in a certain manner, is a respecter of persons.  HE favors those who have that desire to come near to HIM and to please HIM, those who are seeking the perfection that God can bring into our lives.  But God is not a respecter of persons in that anyone can seek HIM and turn to HIM.  But not all seek HIM.  So those who turn away from HIM close the door on themselves and eliminate HIM from the picture.
"Now thanks be unto God, which always causeth us to triumph in Christ, and maketh manifest the savour of his knowledge by us in every place."  [2nd Corinthians 2:14]
As Brother Freedom puts it, "We try and God gives us the umph."  We triumph in Christ.   [For you none english speakers the word "umph" is a word used by common people speaking of "power" or "energy."  We try and God gives the believer the needed energy or power to accomplish the work.  God is the source and the resource of all good things.]
God does not forget the Christians labor of love.  God remembers what you have purposed to do in your heart for HIM.
We have to prove ourselves, especially in our early years of faith.  We prove ourselves in proving the Lord God.  That is such a special time, allowing God to prove you as you prove HIS glorious faithfulness and power as a true Father.  We find that God has a special purpose for each one of us.  When we prove ourselves and HIM then we can come before HIM, before HIS presence with singing and rejoicing.  We discover that HIS love is great toward those who seek HIM.
Brother Freedom is speaking out of HIS own heart right now.  Later when the Spirit of God starts moving more strongly, then Brother Freedom is not the author, but the Spirit of God takes over.  But, Brother Freedom announces that he is sensing God's Spirit so wonderfully right at this point, yet God is allowing him to speak out of his own heart so far.
When the Spirit of God takes over the anointed speaker has very little control of what is being said.  And that is the part that many rebel against.  It scares people.  They don't want to say anything when they are not in control of what is being said.  But that is the trust that God expects of those who speak by HIS power.  HE expects that we will trust that HE will make no mistake.
Most of us want to check God's facts out first before we say anything.  But that tells God that we don't trust HIM.  God sees our hearts.  We don't fool God.  We need the unction and direction of the Spirit of God to direct us, that we might say and do the perfect will of God.  God wants us to come to the place where we quit making mistakes.  We work toward that goal.  But, to follow HIM and come under HIS full control is a place of safety because God makes no mistakes.
God works with us in our infancy.  We struggle as we grow in God.  But in all of it, God sees our heart.  HE sees if our desire is to please HIM.  If we are willing to put ourselves on the line for HIM and to step out in faith doing what HE commands, even if we don't understand what we are doing or why we are doing it.  God sees our trust in HIM as something HE can work with.
Even as Brother Freedom is speaking this message he admits that he did not know what he was going to say, but God is helping HIM to say it anyway, even though in this case it is coming from Brother Freedom's heart.  God will anoint at times to speak from your heart and other times you do things that are from HIS heart.  When it comes from God's heart we have got to stop fretting, striving and worrying what God is doing or what is going to happen.  We just trust in HIM.
We can grow to the point in God and in our trust of the Lord that we can obey HIM and do HIS will better than we can drive our car.  When we drive a vehicle we do many things, but we have success because we have grown confident in what we do.  We can do better than that in God and under HIS direction.
When we grow up in God we will see God move mightily in us.  We all grow at different rates.  God understands all about that.  HE understands us better than we understand ourselves.
If you will give God your desire HE will make it well worth while.  HE will not disappoint you.  Brother Freedom cannot understand the love of God.  God has never really "chewed" Brother Freedom out!!  In other words God has never lost HIS temper with Brother Freedom, even though Brother Freedom says that Freedom probably deserved to be chewed out.  The love of God overwhelms Brother Freedom.  God is so tender and so loving and so patient with those that are trying to please the Lord.
God wants us to grow into obedience.  Obedience is better than sacrifice.  You are not going to hear many preachers proclaiming the truth of obedience above sacrifice.  But God wants us to come into HIS presence with thanksgiving, that we might enter HIS courts with praise, eating HIS Word, digesting HIS Word.  HE allows us to grow in HIS likeness.
We cannot fight the good fight of faith in our own fleshly flesh.  But Jesus paid the price in full on Calvary.  Before HE paid the price Jesus came and lived in this life.  All the things that we go through Jesus came through victorious and triumphant.  Jesus never failed in any position.  With that Jesus became our substitute, that if we will believe and trust in Jesus Christ, our savior, HE will take away our sins and put them in the sea of forgetfulness, never to be remembered or mentioned ever again.  What a wonderful Lord!!  What a precious God we serve.
The disciples didn't want Jesus to leave.  But HE said that it was needful that HE go to be with the Father.  HE kept telling them that HE was going to be a sacrifice.  They could not understand what HE was telling them.  But through Jesus that sacrifice was made on Calvary some 2,000 years ago, that we could live and live practically in this life, that we might learn to be an overcomer, that we might joy every day.
God is the God of all comfort.  God will comfort us in all of our tribulations.  [See 2nd Corinthians 1:3-4]
We learn to move through the Spirit of God.  We need to learn to adapt ourselves to the Spirit of God.  The Spirit of God is here to benefit us, that we might be a blessing and a comfort to others.
"Trust in the LORD with all thine heart; and lean not unto thine own understanding.  In all thy ways acknowledge HIM, and HE shall direct thy paths."  [Proverbs 3:5-6]
The Holy Spirit is the ONE of the Trinity who can work with us so that this Scripture comes to pass.   We don't have to understand very much at all.  We can simply lean on the direction of the Spirit of God and accomplish far more and may never fully understand what has been done.
"Behold, I send you forth as sheep in the midst of wolves: be ye therefore wise as serpents, and harmless as doves."  [Matthew 10:16]
Being "…wise as serpents and harmless as doves…" seems very impractical to the fleshly mind.  People want to set others right, correcting people, telling folks how to live, ordering others around.  But God says:
"Let this mind be in you, which was also in Christ Jesus…"  [Philippians 2:5]
And that is our problem, our fleshly mind comes into a position that stops the mind of Christ, stops God from moving in us.  We need to renew our minds in the Lord:
"…put on the new man, which after God is created in righteousness and true holiness."  [Ephesians 4:24]
When we put on the new man a holy chapter in our lives starts to be erected and built in our mind.  God takes away the old desires, the old things, the old thoughts, the things of corruption that brings us down to no avail.  Through this the Lord takes away the impurities that was born within us from our early childhood.
Those who have grown up in Christian homes miss some of this bad stuff.  But nevertheless there is still a bondage that is given to every one of us from our birth.  It is the carnal nature.
You see how mothers have to deal with carnality as the child screams "NO!"  Those good mothers have to put a spank on a child at times.
The Bible says that good parental discipline will break that evil nature to some degree:
"Foolishness is bound in the heart of a child; but the rod of correction shall drive it far from him."  [Proverbs 22:15]  Withhold not correction from the child: for if thou beatest him with the rod, he shall not die."  [Proverbs 23:13]  "The rod and reproof give wisdom: but a child left to himself bringeth his mother to shame."  [Proverbs 29:15]
Christian children, raised in a good Christian home are saved from some of the problems that children raised in secular and ungodly homes face.
But for those who did not have a Christian home to grow up in, they still have a hope in the Lord.  God can bring change, healing and restoration to any and all who trust, obey and believe in the Lord God Almighty.  It is harder for them, but God can give them extra strength, that they might be able to overcome.
Jesus said that the one who will love HIM the most is the one that has been forgiven the most.  So, those who grow up in rough situations have a hidden blessing too.  [See Luke 7:40-43]
As Christians we can speak life or we can speak death.  This is another problem with many Christians today.  They are speaking death toward many situations.  Many Christians do not move in the Spirit of God, as a result they open their mouths and speak death rather than life.  Where the Spirit of God rules and reigns their is an illumination of God in that life.  We need to have that in our spiritual lives.  But, many believers are guided by their own thinking.
This is another problem in the churches.  New believers who have a zeal and are moving in a bit of light from Heaven toward the Holy Spirit…they get their wings clipped by old, carnal saints.  When these young believers who are excited in God begin to raise their hands and praise, or get animated they are muted down and advised to not get fanatical.  But these new believers are perfectly okay in God's eyes.  But the old saints ruin them, steer them away from what God has for them.  These old saints speak death rather than life.
What we invest in God will go on forever and ever.
"Lay not up for yourselves treasures upon earth, where moth and rust doth corrupt, and where thieves break through and steal:  But lay up for yourselves treasures in heaven, where neither moth nor rust doth corrupt, and where thieves do not break through nor steal: For where your treasure is, there will your heart be also."  [Matthew 6:19-21]
Many believers are saying one thing, but they are not living what they are speaking.  That is another way that they speak death and harm new believers and others.  God is asking HIS church to live what it is speaking.  God desires that we would grow in HIS likeness, in HIS ability.  We will not be spiritually clumsy.
Without God's help we are spiritually clumsy.  The more we learn of God the easier it is for us.
We start in tribulation, every one of us.  Tribulation starts bringing patience.  Patience brings experience and experience births hope.
"And not only so, but we glory in tribulations also: knowing that tribulation worketh patience;  And patience, experience; and experience, hope:  And hope maketh not ashamed; because the love of God is shed abroad in our hearts by the Holy Ghost which is given unto us."  [Romans 5:3-5]
When you have hope, it is like a skater who no longer falls.  Years ago in the Army at Fort Belvoir while at diesel engine school Brother Freedom was invited to go roller skating with some other soldiers.  Not one to give up Brother Freedom found himself out on the skating floor very unsure of himself.  A large woman ran right over him and nearly crushed him.  But he got up and dusted himself off and after a while he got the hang of roller skating.
It takes time to learn to be a good skater.  And in life the same way, whatever you are doing.  It takes time to grow into the things of God.
The enemy comes to take away every good thing that God has given you.  The enemy wants you to be a quiter.  When you run into difficulty the enemy shouts, "Quit!"  When opposition comes your way the enemy shouts "Quit!"  But God is NOT saying "Quit."  God wants you to be an achiever, going forward in God.  Do not let your "hang ups" or hard conditions or your failures and sins stop you from going on and getting totally in God.  Keep doing right!  Get back up, ask forgiveness and go on for God.
"Therefore to him that knoweth to do good, and doeth it not, to him it is sin."  [James 4:17]
So don't be a quitter!!
It is a sin to quit going forward in God and where there is sin there is every evil work.  Sin brings forth confusion, heartaches, trials, sick bodies, minds that are very confused.  It brings forth a condition where the believer is walking in defeat.  The enemy loves it because his work is to kill, destroy and to steal so quitting is a big helper to Satan's evil cause.
God wants you to become an overcomer.  In the Book of Revelation God tells us that HE is coming for the overcomer.  It is very correct to seek to be an overcomer for God because those are the ones HE is going to harvest for Heaven.  Being an overcomer means you can take what you are facing because you are walking with the Lord.  It isn't easy, but you are not quitting, you are hanging in there with the Lord God at your side.
Brother Freedom stops to bring us back to heavy earth moving equipment.  There is a spiritual parallel in heavy equipment.  In the early years there were very few machine variations.  But God used R.G. LeTourneau, a man of God, to bring many improvements to earth moving equipment.  Here's his picture: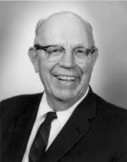 God showed Brother Freedom that just as God sent R.G. LeTourneau along to get heavenly direction in earth moving equipment so that earth moving could grow into better things, so also God wants to develop us in spiritual things.
Brother Freedom begins to explain the importance of the Gifts of the Holy Spirit that helps us to improve in God.
Brother Freedom sees very few Christians who are truly filled with all the fullness of the Holy Ghost.  These Christians are not very happy, they have very little joy of the Lord.  That let's Brother Freedom know that God has more for them in the Lord.  Why do they fail to have the fullness of the Spirit of God???
It is because when anyone receives the Baptism in the Holy Spirit, they are at first very happy, filled with joy.  But pretty soon there comes a darkness against them to stop them from growing in God.  This darkness actually comes out of the visible churches.  This recently filled person is taken aside and someone says, "You are getting too far out from where you should be.  You need to compose yourself, because God wants you to suppress what you are having."
When a believer gets filled with the Holy Spirit it makes them joyful.  They get very alive.  Also they have spiritual eyes and they see the spiritual problems in the church that stand out like sore thumbs.  This makes these ones who have hit the main power line of God a problem to traditional Christians.
When Brother Freedom was filled with the Holy Ghost he was overflowing with joy and the presence of God was all over him for over two weeks.  Nobody knew what to do with him.  He started to hear directions from God Almighty for his life.  God told him to go to the county jail and talk to prisoners about the Lord God.  Soon his pastor came and told him to cool it.  He wasn't to go to the jail to minister, the pastor said.
Brother Freedom found out that religious people don't like it when a believer hits the main power line of God in the fullness of the Holy Spirit.  But God loves it!!
If we listen to dead believers and suppress the move of the Holy Ghost we lose out on what God has given us.  We grieve the Spirit of God.
God has directed Brother Freedom to say this with love.  In Hebrews it warns that those who have had the special touch of the Holy Ghost, if they go backwards it is very, very serious!!  [See Hebrews 6:4-6]  These church members who jumped on a believer who hit the main power line are the ones who claimed they had the infilling themselves.  But in reality they suppressed the Spirit of God and they have pulled others down.  This should not be!  These traditional, carnal believers are going to be accountable for the damage they have done to themselves and to others with their wrong advice.
The fullness of the Spirit becomes an armor of God.  It is very important.
Please make sure and get to minute 36 in this message.  A powerful prophetic word is poured through Brother Freedom's lips as the Holy Ghost takes over totally for a few moments.
This is a watershed message.  It is like an advanced course in the School of the Holy Ghost.  There is so much more than has been included in this printed run down.  Please listen.  Your life can be totally changed!
Did you enjoy this post? Why not leave a comment below and continue the conversation, or subscribe to my feed and get articles like this delivered automatically to your feed reader.