Archive for November, 2003
A couple of weeks ago I was asked to re-level this piece of land. So they brought this old 613 [An old Caterpillar scraper]. It was in bad shape. It was bad and it got worse as the day progressed. It had a laser beam that helps control the leveling of the field. And that laser beam was broke and wouldn't work. It worked sometimes, but other times it wouldn't work. And the floor of the scraper got to where it was cutting the ground low on one corner, and they wanted me to still finish the day out. And I told them, "It is an impossibility!" And they wanted me to carry dirt ahead of the bowl, which it is not made to do that. So I tried that and it pulled holes out of the ground.
And I told this owner, I said, "This is not going to do it." And I was praying all the time when I was operating. So he says, "Well, let me call [make a phone call]. Just go ahead and work until dark."
And I went and it got progressively worse! And I just had a big mess, it looked to me like. If it looked any better it was only in the eyes of someone else, not my eyes.
He got a hold of a contractor in town who had a [newer] 623. It had a laser beam on it. So he said he thought he could get it. He called me that night and said he had gotten it. So I went back the next day. The 623 had a laser beam that I could see. It worked! And there were all these blessings. I said there was a real reference point, because the old machine was like our "old man," that we cannot succeed with. We are just making it worse day by day with the "old man." We are getting worse and worse and worse. With the old man we get farther and farther off of where we should be level. We are un-level in the "old man."
And that 623 had all the features that we have when we have the Baptism in the Holy Ghost. We have HIS presence, because the indicator on that 623 works that says whether we are high or low. A green light on the laser indicator means the 623 is leveling the field perfectly. But if you have one yellow arrow that goes down that means you are a little too high. But this 623 measured within a couple of inches of level. So you kind of keep that machine in the green light position. If you get out of that you don't know where you are. If you get out of the laser beam you have no lights to tell you what is going on.
So anyway, the 623 came in and I started and, you know, it was no task at all, to do the work. All I had to do was just to keep that bit on the green light. And that is the way life is!
When we have our eyes upon Jesus, we have the gift of God. We have to keep it within that realm that God can speak to us. If we get beyond that realm into sins we get into these problems that brings us out of that level. Then we are fooling ourselves if we say, "I'm in the Spirit of God." God is only in that "grade level." And we have got to start moving in the "grade level." [This analogy is speaking not of a school grade, but grading or leveling ground].
We have got to get in THAT area, then God gives us pardons, "You are up too high. You are down too much. Come up!" That is for us to adjust, to stay on that level.
And the Bible says, "…whatsoever is not of faith is sin." [Romans 14:23b] If we miss the course it is sin! So we are actually in sin when we get out of God's level.
Through these machines God revealed a GREAT truth. And with that new machine there was no problem at all! I mean it was joy! It was joy unspeakable. And the first day it was so terrible. My legs were cramped up. The seat on that old machine had no padding. And it cut my leg! And my neck hurt trying to see where they had put that broken indicator. That indicator was sitting clear up on top of the boom of the scraper where I couldn't even see it! And then when I would get to a certain spot in the field it didn't even work because it wasn't mounted right. There were all these wrong things on that old machine.
But on the new machine everything was perfect. All the equipment worked. Everything was in good condition. The seat had a floating cushion suspension. That new machine had all the comforts. And that is the way it is with God! Oh, the glory of God. I feel HIS presence right now!
The Spirit of God is to touch us! We need to get in this. This is a GREAT truth! We need to get away from that old bad machine, "the old man." We need to get updated. We need to have the power, the anointing of the Spirit. Glory!
I better not go any farther because this…WOW!!
The presence of God was all over Freedom. He had to stop because the Restaurant was not prepared for Brother Freedom if he should get any more blessed.
Hallelujah! God is good! God is faithful! Are you HAPPY? [The congregation breaks out in "yes" and even a cheer or two.] Glory to God! You know God wants to bless HIS people. God wants to touch HIS people! God wants to make HIMSELF REAL to us.
When I found out, quite a few years back, I come to the Lord when I was nine years old. And a week before I actually made a decision for the Lord, I found myself drowning. I was in water up over my head. I was little. And I thought it was all over with. And there was a bigger boy there that could swim. And I didn't even know he was there. And he come. And he says, "Relax!" That is the first thing I remember. And he grabbed me around the neck and he drug me out. And I said [to myself], "You know, I want to give my heart to Jesus! I want to make sure that I know Jesus!"   Because at that second I thought it was all over with. And I am saying, that here tonight, because we don't know about tomorrow. But we know WHO holds our hand.
And "…greater is HE that is in…" US, "…than he that is in the world." [1 John 4:4b] You know, if you know Jesus you are on the PLUS side. If you don't know HIM, God has a place for you because HE LOVES you. And God wants to make HIMSELF real to everyone that is in this room.
The Bible says that God "…is not slack concerning HIS promise, as some men count slackness;…" [2 Peter 3:9a] But before I go any farther I want to pray, because, you know, what is coming up is Thanksgiving time. And I BELIEVE in Romans the First Chapter it says because they were not "thankful," he named some other things but that was the main reason, that God turned them over to a "reprobate mind." [See Romans 1:21-28] They did some things, but [they weren't thankful].
But thankfulness is very [important]. You know I have kids. Anyone have children here?? [Many respond they do]. You know it just does something WONDERFUL, WUNDERBAR [in German] when they [your kids] say, thank you. And when we say "thank you" to God, oh hallelujah.
God loves that AROMA as we say, "Heavenly Father, Jesus, Holy Spirit, I LOVE YOU! And I PRAISE YOU! And I thank you that I still live in a free Land. I am thankful that I was born in this Land of the United States. I am THANKFUL because even though we may go through problems, I believe it is the best country in all the World."
I went over seas and fought for this Land. I was in Korea. And I remember there that I thought I would never make it home. But praise be to God, I told the Lord then. I said, "If YOU will bring me through I am going to LIVE for YOU the rest of my life!"
And I don't know whether or not there might be one here tonight like me, that you promised, when you were young, that you might live for God? Well, you know, God is going to hold us to that, our commitments.
The Bible says don't make a vow unless you want to keep it with God, because God says, "Hey, you know what? You promised ME, way back there in 1952 that you were going to serve ME. Where are you at, tonight??"     [Psalm 50:14 says, "Offer unto God thanksgiving; and pay thy vows unto the most High."]
That happened to Adam. Adam found himself  NAKED before God, because Adam had sinned. And God had to say, "Where art thou?"
Before I pray, I want to say that we are going to pray that God is going to move upon your hearts here in a very WONDERFUL, and a very GLORIOUS, and a very POWERFUL way. You know, before I pray I am also going to tell you a story.
I had a brother. He was in Reno, Nevada. It was on a Saturday morning. I went to a prayer breakfast.  I had this telephone call. My wife told me, "They say that Earl is dying. He will be dead before we get there. We must leave."
So we hurriedly took off to Reno. But I prayed all the way. And at that time I did a lot of praying. I still do a lot of praying. When I got there my Dad, who was still alive then, said, "Earl is not going to make it! He should have been gone a couple of hours ago. But he is still hanging in there."
And I told my Dad, "Why can't I go in and see Earl?" He said, "Well, I don't think it would hurt nothing."
I said, "I want to go in and pray for him. I want to pray with him. I want to be WITH him at this time." Earl was the middle child. Earl was such a wonderful young man. And I went in the room there and he was unconscious. They said that he would never regain consciousness again.
And I started praying. And I prayed, in the Spirit. And in two hours and fifteen minutes I felt, by the Spirit of God, to quit praying. And when I opened my eyes Earl's eyes opened. And he spoke. He said, "I'm okay."
And I have seen these kind of things take place time and time again! And I believe that we serve the God of miracles! We serve the God of blessings!
You know if you have a hard time in life, you need to go to Jesus! HE's the ANSWER! I've gone through terrific hard times. But HE has ALWAYS, constantly been the answer. HE's the ONE that has been abiding! "If ye abide in me, and MY words abide in you, ye shall ask what ye will, and it shall be done unto you." [John 15:7]
I can hardly speak the glory of God is so upon me! God wants to really minister HIS love. You know I love each one of you out there in a very special way. Glory be to God!
You know I'm not a pastor! But I LOVE God! And God has proven HIMSELF. I'm just like David! God has proven HIMSELF to me! HE let me see that HE could do ANYTHING! HE is a God of miracles! HE can touch a piece of steel. You know, if HE can touch one of those crazy old Caterpillars [dozers, scrapers, graders, loaders, excavators, etc], that ain't got a heart in it; but if GOD can do THAT, what can HE do with US that HE made!? HE knows ALL about us.
[NOTE: Before you read the prayer that came next out of Brother Freedom's lips, you need to know that when Freedom prays, a miracle often takes place. It is not him! It is God working through this lowly servant of the Most High God! This prayer may seem long to you, who simply read it. But let me say that I was there. And this prayer was ALIVE! Many in that meeting knew that something different was taking place. And some even recognized that God was bending down close to catch every word that went up as a sacrifice. And some who were even more sensitive new that the Holy Spirit was formulating this prayer in some awesome way. Some knew that God the Father was hearing just what God wanted to hear, that this prayer was a key that would open a door for mighty workings of God. When the Spirit of God prays through Freedom it is awesome what happens. So, please, as you read this prayer know that it will take the Holy Ghost to anoint these words on your computer screen. Without the anointing of the Holy Spirit upon you, you will miss what we who were there experienced. May God touch you, dear reader, as you go on in this miraculous prayer and message. — Brother Clint (Brother Freedom's assistant)]
Father God, in the Name of Jesus we just praise YOU this night. We thank YOU Lord for this WONDERFUL time. We thank you GOD that YOU make Yourself REAL to us; the God of Heaven, that you are WITH us right now. YOUR Word declares that YOU will never leave us, YOU will never forsake us, that YOUR eye is on the sparrow. And as YOUR eye is on the sparrow, so much MORE will YOUR eye be upon us. Oh, we praise YOU this day, wonderful LORD. We thank YOU, Lord! And we pray for YOUR people this day. We pray for a mighty BLESSING, and we are THANKFUL for all the many, wonderful things that YOU have done for us. We thank YOU for the HEALTH, the STRENGTH, for we have YOUR presence here tonight. What a GLORIOUS time! And Father, we have a faith and belief that YOU are coming back some of these days, that we are going to meet with YOU, and be in HEAVEN, Lord God! What a glorious time! What a wonderful day! What a positive day, that is coming forth very SOON, Lord God. The just MUST live by faith. The Bible says the dead in Christ shall rise. And they shall be caught up in the air, and not them only, but those that love YOUR appearance, Father God. And Father we pray for those who have went the way of the grave, that they are going to be caught up to meet YOU in the air. What a TIME it is going to be! What a glorious day! And we know that day is very soon. But Father, while we are here, YOU want to bring that glory into our hearts, while we are here, that greater is HE that is within us than he that is in the World. Oh, we praise YOU this day! Oh, love divine! Oh glory to God! We praise YOU this day! Wonderful Lord we THANK YOU this day for THY blessings, for THY faithfulness, oh for THY blessings evermore. And Father, I pray, Lord God for that one right now, in the Name of Jesus, that YOU might touch every heart in this room. Father we pray for the families. We pray for the needs they have here this day. We claim and believe for a mighty touch from Heaven, Lord God. We pray that YOU would bind the powers that the enemy would come against them, here this night. And we loose the power of Jesus Christ. We loose the power of the Holy Ghost from Heaven to touch everyone from the very crown of their head, to the very sole of their feet. Touch them this night afresh and anew. We thank YOU! We praise YOU this day. We pray for our NATION this night. We pray for our leaders this night! We pray for the City of __________ this night. We pray for those that need a mighty touch this night. We pray for YOUR pastors. We pray for the church! We pray, Lord, for a mighty touch from Heaven. We pray for revival, for your people this night. We all need to be revived. We need a new power, a new strength, Father God. We PRAY Lord God, oh hallelujah. As that manna wasn't sufficient, they needed a new manna. We need NEW manna this night! We need a new touch from Heaven this night, we declare, Lord God. We ask YOU to touch us, fill us ALL, afresh and anew, by the power of God, Lord God. Oh, glory! Father we know there is nothing like YOUR touch from Heaven. Oh, we praise YOU this night, oh wonderful Lord! Oh, hallelujah! Surely goodness and mercy shall follow us all the days of our life! And we shall dwell in the house of the Lord forever. That is YOUR Word, Surely goodness and MERCY shall follow us ALL THE DAYS, ALL THE DAYS of our life.
Here this night, all of us say, "Surely goodness and mercy shall follow me ALL the days…" [The congregation repeats the words after Brother Freedom]. "And I shall dwell" [they repeat] "in the house of the Lord" [they repeat] "FOREVER" [they repeat].
Do you believe that??!      [The congregation answers with amens and "Yes!"]
I BELIEVE IT!! God is REAL! HE is FAITHFUL!
The Bible says, "The LORD is my shepherd; I shall not want. He maketh me to lie down in green pastures: he leadeth me beside the still waters. He restoreth my soul: he leadeth me in the paths of righteousness for his name's sake. Yea, though I walk through the valley of the shadow of death, I will fear no evil: for thou art with me; thy rod and thy staff they comfort me. Thou preparest a table before me in the presence of mine enemies: thou anointest my head with oil; my cup runneth over. Surely GOODNESS and MERCY shall follow me ALL the days of my life: and I will DWELL in the HOUSE of the LORD FOREVER." [Psalm 23:1-6]
We have a covenant with God. God says, "I will never leave you! I will NEVER forsake you!" The Almighty God is forever WITH us! HE longs that we would call upon HIM! The Bible says in Jeremiah 33:3 "Call unto ME, and I will answer thee, and show thee great and mighty things, which thou knowest not." [Jeremiah 33:3] The Bible says that "…ye have not, because ye ask not." We …"ask amiss…" [See James 4:2-3]
Many times when we pray we don't really fail because God cannot hear and answer our prayer, but we fail because we are WITHOUT faith!! And through that God passes over us! HE passes us on by! And surely we didn't get no blessing because we weren't acting through FAITH! The just must walk by faith!
And when you call upon God, God IS there! We must determine that God is there. The Bible says in Romans the Twelveth Chapter that HE gives us a "measure of faith," here tonight. [See Romans 12:3] If you don't know Jesus, God can give you that faith that you can believe that HE will save you, that HE is able to KEEP you, that HE is able to HELP you, that HE is able to meet your NEEDS. HE is able to walk by your side. And HE is able to counsel you. HE is able to be your way-maker. HE is able to be your faithful friend that will stick closer than a brother. [See Proverbs 18:24] HE is on your side! HE is the Alpha, the Omega [the A and the Z], the beginning and the end! ALL things are made by HIM. All things ARE for HIM! HE is REAL! HE is available! Hallelujah! GLORY BE TO GOD!!
I'll tell you, I'm getting tired of people that have no zeal for God! They have a form of godliness, but they deny HIS power. The Bible says, "from such TURN AWAY!" [2nd Timothy 3:5b]
I am here to bring confidence that God is REAL, a GOOD GOD that can take an old wore out NOTHING like I am and MOVE upon it. If HE can do that, what can HE do with YOU out there this night! There is NOTHING impossible with GOD!
I was putting a water pump on a Caterpillar 941 track loader the other day. It was the hardest water pump I ever put on because I had to force it to get it down in the hole where it fits. It was that tedious a job! The loader frame was right in my way. But I got it all hooked up. I put water in the cooling system. It looked like it was going to be all right. So I thought, "I'll go ahead and put the anti-freeze in now." A truck was coming to pick the loader up. All of a sudden, right at the lower hose water started pouring out.
The Bible says, "…look not at the things which are seen, but at the things which are not seen: for the things which are seen are temporal; but the things which are not seen are ETERNAL." [2 Corinthians 4:18] "For which cause we faint not; but though our outward man perish, yet the inward man is renewed day by day. For our light affliction, which is but for a moment, worketh for us a FAR more exceeding and eternal weight of glory;…" [2nd Corinthians 4:16-17]
As I looked at that leaking cooling system I got fooled! I was praying. I said, "Lord, I pray in the Name of JESUS!" And I didn't see it dry up. And I am ashamed of myself. I almost doubted! And I says, "Lord, what's wrong?" And the Spirit of God had to get stern with me. "Look UP! It is not from here that it is coming! What do you think it is coming from?"
And that water was coming from clear up on top of the engine! It was coming down and it had found a pathway exactly where that hose was, clear down here. That is where the water was! And as soon as I fixed that upper leak there was NO problem!
In a lot of things that is the way in life! We are looking at what we think is the trouble, but it is NOT even the trouble!! A lot of times we think, "Well, that person don't have time for me!" And we get sort of miffed. And we get to where we don't want to talk to some one, because of our idea. But really, a lot of times, it is OUR problem!
I overlooked something! I've overlooked to have prayer that morning. I've overlooked to have time with God. I've overlooked to have TIME, no longer that I would walk in anger, that no longer I would be determined to walk in my old man, through the problems that I have faced. That I would be an over comer.
The Bible says, "He that overcometh shall inherit ALL things…" [Revelation 21:7a] If God be for you who can be against you? [See Romans 8:31] "Blessed is the man that walketh not in the counsel of the ungodly, nor standeth in the way of sinners, nor sitteth in the seat of the scornful."
"Blessed is the man that walketh not  NOT in the counsel of the ungodly, nor standeth in the way of sinners, nor sitteth in the seat of the scornful." Blessed is the man that DOESN'T do those things! "But his delight is in the law of the LORD; and in HIS law doth he meditate day and night. And he shall be like a TREE planted by the rivers of water, that bringeth forth his fruit in his season; his leaf also shall not wither; and whatsoever he doeth shall PROSPER." [Psalms 1:1-3]
OH I FEEL THE PRESENCE OF GOD HERE TONIGHT!!! God is HERE to touch you!
But it says the ungodly shall perish! [See Psalms 1:4a] "But they that wait upon the LORD shall renew their strength; they shall mount up with wings as eagles; they shall run, and not be weary; and they shall walk, and not faint." [Isaiah 40:31] "Casting all your care upon him; for he careth for you." [1 Peter 5:7]
God is saying, "Come unto me, all ye that labour and are heavy laden, and I will give you rest.  Take MY yoke upon you, and learn of ME; for I AM meek and lowly in heart: and ye shall find REST…"   IN     YOUR     SOUL.   [See Matthew 11:28-29]
Hallelujah!! PEACE!   "…MY peace I give unto you: not as the world giveth, give I unto you. Let not your heart be troubled, neither let it be afraid." [John 14:27]
GOD has PROMISED to prosper you with PEACE! HE has prospered you with JOY! If you don't have JOY, you need to go down and get another talk with God! I'm making it simple!! You need to talk to JESUS, through the power of God!
God has given you ALL authority! The Bible says, "…be strong in the Lord, and in the power of his might. Put on the whole armour of God, that ye may be able to stand against the wiles of the devil." [Ephesians 6:10-11]
There are problems! That old "fellow" [the devil] don't like us! He wants to do you in! He wants to do me in! The Bible says he comes to, "…steal, and to kill, and to destroy…" [See John 10:10]  That is what he wants! He has been a liar. He has been a cheat from the very beginning. And he is out to get you.
God made Heaven for HIS people. And the enemy is the only one that God made Hell for. If we go to Hell it is because we want to. Because God wants us to come to HIM [the Lord God]. And where HIS Spirit is there is LIBERTY. The Bible says, "Now the Lord is that Spirit: and where the Spirit of the Lord is, there is liberty." [2 Corinthians 3:17]
I would rather have GOD in my life, hallelujah, than have all the RICHES of this World!   I want to FEEL what I FEEL [right now]. It is a blessed hope, the blessed assurance that JESUS is mine. What a fore taste of glory divine. I am an heir of salvation! OH HALLELUJAH!!
God has given you that you might be the CHILD of the KING, that you might be a witness for God. But also that you would have a joyful noise. It says, "Make a joyful noise unto the LORD, all ye LANDS." [Psalm 100:1]   [The congregation breaks out in praise.]
How many is happy?? [More praises from the people] "…happy is…" the man, "…whose God is the LORD." [Psalm 144:15b] Happy is the woman! HALLELUJAH!! Glory to God! Hallelujah! Are you excited? I'm excited for Jesus!! I'll tell you I'm excited for Jesus!! Are you excited?? Hallelujah! Glory!! Give God the Glory!    [The congregation begins to exalt in God. Brother Freedom is jumping for joy. And seeing a 71 year old man of God jumping like he is on a fast "pogo stick" is something special to behold!]   Hallelujah! Glory! Glory! Glory! Glory! Hallelujah!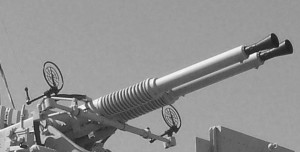 [When Brother Freedom's mouth opens and pours forth so many Holy Scriptures it is as if God is opening up with a "Palm-Palm" gun on all evil and sinful things.  Darkness departs the room and the Holy Spirit moves upon the congregation.  And so a picture of a "Palm-Palm" gun is very appropriate at this point in the message.  –Bro. Clint]
Do you know how old I am?? Praise God! God is renewing my strength! HE will renew a right spirit within you! Hallelujah!
The Bible says, "Hast thou not known? hast thou not heard, that the everlasting God, the LORD, the Creator of the ends of the earth, fainteth not, neither is weary? there is no searching of his understanding. HE giveth power to the FAINT;…" HE GIVES POWER TO THE FAINT! "…and to them that have no might HE increaseth strength. Even the youths shall faint and be weary, and the young men shall utterly fall: But they that wait upon the LORD shall renew their strength; they shall mount up with wings as eagles; they shall run, and not be weary; and they shall WALK,…" Brother Clint, and they shall "…NOT FAINT." [Isaiah 40:28-31]
Hallelujah! Glory to God.    [The audience is having a time of praise still!]
We need to be STRONG in the Lord! The Bible says, in Second Timothy 15, if you want to get strong "Study to shew thyself approved unto God, a workman that needeth not to be ashamed, rightly dividing the word of truth." [2nd Timothy 2:15]
You know there was a time in my life that I didn't have enough days of work, that [was because] I had to read a lot of Caterpillar Service Manuals to understand all that I was supposed to do. Do you understand what I'm saying? Are you with me? But this here [holding up the  his Bible] gives us a clear road map for Heaven!
It says, "I will lift up mine eyes unto the hills, from WHENCE cometh my help. My help cometh from the LORD, which made heaven and earth. HE will not suffer thy foot to be moved: HE that keepeth thee will not slumber. Behold, HE that keepeth Israel shall neither slumber nor sleep." [Psalms 121:1-4]
And HE says that HE will keep us in the night, in the day. God is glorious! HE is wonderful!
The Bible says, "For the eyes of the LORD run to and fro throughout the whole earth, to shew himself STRONG in the behalf of them whose heart is perfect toward him." [2 Chronicles 16:9a] "If my people, which are called by my name, shall humble themselves, and pray, and seek my face, and turn from their wicked ways; THEN   WILL   I    HEAR…"   This is GOD speaking!! "…THEN WILL I HEAR from heaven, and will forgive their sin, and will heal their land." [2 Chronicles 7:14]
What a contract!!
The Bible says, "And what agreement hath the temple of God with idols? for ye are the temple of the living God; as God hath said, I will dwell in them, and walk in them; and I will be their God, and they shall be my people. Wherefore come out from among them,…" And HERE TONIGHT I challenge you here tonight: "…come out from among them and be ye SEPARATE, saith the Lord, and touch not the unclean thing; and I will receive you, And will be a Father unto you, and ye shall be my sons and daughters, saith the Lord Almighty." [2 Corinthians 6:16-18]
Here a few years back on a Saturday morning I was supposed to go up into the Mountains to fix a brand new 528 skidder. I was working for a Caterpillar tractor dealer. And they said it had an engine problem. But the Lord spoke to me and says "I want you to go to prayer breakfast!" And I was between "a rock and a hard place." And I said, "Lord, I want YOU to bless me." And the Lord said, "I didn't ask you."   [God gave a command!]  "I want you to go to that prayer breakfast! Do you have faith that I AM able to to finish that job up there?    " I said, "Yes I am believing. I believe you do [have that power].  YOU can!"
But I hemmed and hollared around. So I went to the prayer breakfast. And I thought, "Well, it's pouring down rain. Something is going to happen. It's going to be like a flood up there, and I'm not going to get to that skidder anyway."   You know how we think in a situation like that. You know, I really wasn't into what they were doing that morning at the breakfast. But, I was there!
Finally I thought, "Lets get this meeting going because I got to go up there. And I've got to get to high elevation," where this machine was at. And it was raining down at the prayer breakfast, so it was going to be snowing up the mountain.
When I got up there, boy the logger wasn't very happy, to say the least. I was late!!   This machine had a new "sleeve metering" fuel system and a 3306 engine. And it had this miss [in the engine] real bad. I didn't even start it up.
So I had envisioned that I was going to have to pull the engine out and all this that a mechanic has to do. I thought, "Oh, my goodness!"
So when I got out of the service truck, so help me, snow was coming down. The Lord says, "Now I AM going to ask you to do something else."
I said, "What is it? I'm already in it now! I might as well go all the way, Lord!"
And the Lord says, "Take your right hand. Walk up to that radiator. I want you to put your hand on it. And take your left hand and raise it up. And I want you to pray. And when you do I will show you exactly what is wrong with it!"
I says, "……OKAY?!" I said, "All eyes forward," because I says, "I'm the one!"
And I did that. Instantaneously I knew what was wrong with that machine. I could see!   I can't explain it!
The Bible says when we trust God, God loves that, when we put our faith, our determination, whatever it is going to cost on the line for HIM. I didn't have no name anyway. But when I give God, and put my full trust in HIM God checks me.
It is like in the Old Testament when Abraham took Isaac up to be offered. Pretty soon the angel of the Lord told Abraham, "Don't take his life! I already have a sacrifice."
And God, I've seen HIM many times, everything that you do with God, there is always an obstacle. That obstacle was, "Was Brother [Freedom] going to be determined that God was God?"   That was the first obstacle down in the valley. The second obstacle was when I got there. "Was I going to act foolish, put my hand up on the radiator, up about so high; And put my other up in the air and pray to God from Heaven that I love?"
HE was worth ALL and everybody else!
But when I prayed God's faithfulness didn't stop there. God just showered BLESSINGS upon me!
And I took that pump out within about three minutes time. It was a pump that was stuck. It had a broken spring. God had all things figured out. And that morning the logger said, "You know, [Freedom] you are really lucky!"
And I says, "NO, not lucky!" I said, "It was God's way!"   He [the logger] says whatever it costs I'm going to take you to [Town]. He says, "We got a pickup we never had before." The big boss had bought his son a four wheel drive pickup. And the son didn't want the pickup. So the loggers took the pickup up there. So in that pickup we cut across the country in the snow. And we got back, and that machine was running in two hours and forty minutes!
This is TRUE!!
And I have seen this time after time! I would have probably went up there with out God's help. I would have pulled the hood off first. And then I would have got down there and got really serious and started pulling the head off. And then I wouldn't have found nothing. There is a lot of other things that I could have done, AS WRONG, or going beyond that STUPID!    And, "STUPID" would have been on my forehead, because I did the wrong thing!
But in a lot of things in life we become STUPID without GOD! We need God's BLESSING! We need God's faithfulness! We need HIS All-SEEING EYE on our shoulders ALWAYS!
The Bible says that HE cares for the sparrow! How much more does HE care for you???!!
Someone here tonight, right now, God is showing me that you have walked many years. And you feel right now that you are hitting a crisis. But God is telling me by the Spirit of God that HE wants to TOUCH you! HE wants to re-organize your's and HIS walk together, that God loves you. And HE called you with a very special calling.
There are others here tonight that God wants to BLESS you. I feel the demonic, the bad powers have come against many. But God wants to set you free! Whom the SON has set free is "free indeed." [See John 8:36]
God wants to set you free this night! God wants to bring holiness to your life! God wants to bring BLESSINGS into your life! "…be ye stedfast, unmoveable, always abounding in the work of the Lord, forasmuch as ye know that your labour is NOT   IN   VAIN…." [1st Corinthians 15:58]   Your labor is NOT in VAIN!   Your walk, your talk is not in vain with God!
One of these days, very shortly, we are going to go to another realm. And I'll tell you I want my name written down in the Lambs Book Of Life! Maybe I'm selfish! BUT I WANT TO GO TO HEAVEN!!!! I want to go there by and by! I want to serve God down here and do the very best. [The congregation is getting excited]
We all fail God! But God wants to BLESS us! In Psalms it says he sees us as FRAIL! [See Psalm 103:14] God sees us, in ourselves, as VERY frail.
But when we allow the Spirit of God to come and take us over, from the very crown of our head to the very sole of our feet, it is no longer US. But the Bible says, "…GREATER is HE that is in you, than he that is in the world." [1 John 4:4b]  It becomes a challenge on God's side that you can go against the enemy himself, but GOD WILL BE WITH YOU.  And HE will fight your fight. HE will go and BLESS you, that you might be a son of God, that you might be a daughter of God, that you might be VICTORIOUS over death grave and Hell! That you might live a prosperous and a glorious life unto GOD!  That God wants to BLESS you here tonight!
I FEEL THE PRESENCE OF GOD THAT I HAVE NEVER FELT BEFORE, IN THIS ROOM!!   God is here to RE-ARRANGE your life! HE wants to BLESS you!
I love you! God loves you!
I wish we had more time. But God is REAL! Here tonight I know that HE is VERY   faithful!   And God will complete what is lacking. Hallelujah!
The Bible says, "But my God shall supply all your need according to HIS riches in glory by Christ Jesus." [Philippians 4:19] "Now unto HIM that is able to do exceeding abundantly above all that we ask or think, according to the POWER…" [Ephesians 3:20]   You have a POWER that works within you.   That is when you speak with your tongue.   GOD   HEARS   THAT   CRY!
I can't understand it! God knows EVERYTHING!! And you know that is why I got to where I wasn't afraid of the enemy. But I have to be afraid of the enemy if I get where God would dismiss me. Then I am NOT able to match up with the enemy! But as long as I stay suited up with God, I am more than a conqueror! You are more than a conqueror through HIM that loves you [See Romans 8:37]
"HE that spared not HIS own Son, but delivered HIM up for us all, how shall HE not with HIM also freely give us all things?" [Romans 8:32]
God wants to bless you tonight. You can feel your cup running over!
I'm going to close with this: "Surely goodness and mercy shall follow me all the days of my life: and I will dwell in the house of the LORD for ever." [Psalm 23:6]
Father God I pray for a mighty BLESSING upon everyone in this room. I pray that you will BLESS every heart here, every soul. And Father I pray for the liberty of JESUS CHRIST to be REAL! I pray for a mighty unction from God to function through the power of the Holy Ghost. We need that special touch this last hour. And I pray that YOU will set your people free. TOUCH them. Re-arrange their lives to the glory of God. Let them see that you are REAL, that you are FAITHFUL!   There is a JOY. The joy of the Lord is our strength. Father God I thank you this night. I pray that none will be afraid of what they heard here tonight, that they will sense that I love them, that YOU love them. I care for these ones. Now Father God I know that YOU care a million times beyond our imagination.   How much YOU care. And Father I pray that YOU will BLESS these wonderful people. I pray that you would BLESS them. Let them know that there is ONE person that loves them, and that is GOD! God loves them! But I, [Brother Freedom] love them TOO this night! I pray, Lord God, that YOU will move in their hearts in a very special way. In this Thanksgiving day I pray that you will BLESS them! Let them have a GOOD Thanksgiving. Let them be blessed, blessed, blessed, blessed, blessed by GOD. And we thank YOU and the Lord Jesus Christ. Amen [The congregation broke out in joyful applause. Brother Freedom stayed for quite a time praying for many who came forward seeking a touch from the Lord.]
[Note: Brother Freedom and I were just sitting in my living room visiting on Veterans Day. We were in the midst of our own conversation. Freedom was in the middle of saying something when his eyes snapped closed. His voice stopped abruptly…then a language, unknown to either of us, poured forth for about ten seconds. Just as abruptly the following words from God's Throne room issued forth. I must say that we were like two railroad men sitting in a dusty station, making small talk, when suddenly the telegraph key came alive. I try to always keep a small tape recorder ready, because we never know the instant that the Holy Ghost is going to pour forth a telegram from Heaven's shores. After it was over Freedom had little recollection of what was even said. Here is what God telegraphed through the lips of HIS servant.]
Read the rest of this entry »